High Speed Mixing Granulator Introduction
GHL Series High Speed Mixing Granulator(Mixing and Granulating Machine)is equipped with a closed container with blending tools driven from above or below
Originally, the granulation liquid was poured into the product. Today, an improved dosed distribution using a spray nozzle is preferred in order to obtain a more even granulate.
The granules are distinguished by a compact structure and high bulk density. They have good flow characteristics and can be optimally pressed. For various applications in pharmaceuticals and related industries.
the GHL series Super Mixing and Granulator often connect with YK series swaying granulator Machine to get 1.5-5mm wet granules, and then direct to send the wet granules into the drying machine to get dried granules (instant granules), the drying machine can use Vertical Fluid Bed Dryer or Horizontal Fluid Bed Dryer, but it decide by the treating capacity. The final step of the process system is the granules sifter. The granules sifter will separate the large powder particles from the powder, size is determined for the separation. The off size is bagged off and the powder can be either directly packed into big bags or conveyed to a silo system for other packing systems.
Mixing and Granulator Description
Hywell Machinery High Speed Granulators consist of two electrical motors, one reduction gear, coupling, and shafts with the two agitators. The shaft is sealed with special sealing, sometimes with air purge, in a way that there is limited contact between the material and the seal. Materials are loaded from top side, and the discharge is located at the bottom side. Due to the consistent modular design, the High speed granulation can be configured individually and easily adapted to the constructional circumstances and specific requirements.
Feature
1. Low noise and good seal
2. Enclosed structure, without overflow of power dust
3. Smooth running, reliable performance, easy operation.
4. Small cubage, easy to install, convenient to operate and maintain.
5. Compared with the traditional process,25%) of adhesive can be reduced and the drying time can be shorted;
6. The time of mixing in dry is 2 minutes and the time of granulating is 1-4 minutes. Compared with the traditional process, 4-5 times of efficiency is raised;
7. In the same sealed container, dry mixing, humidity mixing and granulating can be finished, it is in conformity with the requirements of GMP;
8. The whole operation has strict safe and protective measures.
9. The mixing and cutting speed are controlled through frequency change, so the granules are more even.
10. Highly polished inner and outer surfaces of the barrel, no dead comer, easy to discharge materials, easy to clear, no cross contamination. Confining to the requirement of GMP.
11. Control system has more choices, such as push button , HMI+PLC and so on.
12. Machine materials : AISISUS304 , AISISUS316L, and other material .
13. For the electrical component , we mainly use international brand such as ABB ,Siemens or Schneider.
Rapid Mixer Granulation Application:
The GHL series wet granulator machine is widely used in pharmaceutical, chemical, foodstuff and electronic industries.
1. Food industry
Batters, Flavours, Instant meals, Spice and herb mixtures, Sugar based confectionery tablets
2. Chemical industry
Coloring of plastics, Master batches, Powder mixing with liquid addition, Powder paints
3. Pharmaceutical industry
Granulate mixtures, Powder mixtures, Wet granulations
4. Cosmetics industry
Ceramic dental mixtures, Eye shadows, Face powders
Main Technical Parameter:
| | | | | | | |
| --- | --- | --- | --- | --- | --- | --- |
| Model | GHL-50 | GHL-100 | GHL-200 | GHL-300 | GHL-400 | GHL-600 |
| Tank volume (m3) | 50 | 100 | 200 | 300 | 400 | 600 |
| Working volume (m3) | 12-36 | 25-70 | 50-150 | 60-220 | 100-280 | 150-400 |
| Feeding capacity (kg) | 6-18 | 12-35 | 25-75 | 30-110 | 50-140 | 75-200 |
| Max inside diameter (mm) | 498 | 628 | 788 | 988 | 988 | 1130 |
| Stirring speed (r.p.m) | 50-500 | 30-360 | 30-260 | 20-200 | 20-200 | 20-200 |
| Stirring power (kw) | 5.5 | 7.5 | 15 | 22 | 22 | 30 |
| Cutter speed (r.p.m) | 50-3000 | 50-3000 | 50-3000 | 50-3000 | 50-3000 | 50-3000 |
| Cutter power (kw) | 1.5 | 3 | 4 | 7.5 | 7.5 | 11 |
| Height of discharge (mm) | 725 | 750 | 930 | 930 | 930 | 1160 |
| Machine size (mm) | 2100*480*1500 | 2900*900*1700 | 2250*1700*2100 | 2500*1960*2220 | 2500*1960*2320 | 2900*2330*2630 |
| Weight (kg) | 500 | 880 | 1410 | 1850 | 1900 | 3800 |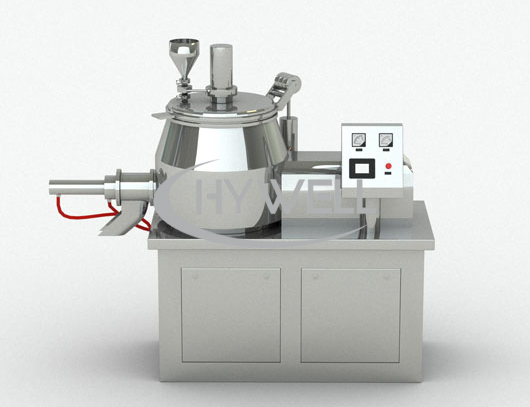 About Us
Hywell Machinery is a market leader in one stop smart pharmaceutical production solution experts and your premier one stop solution pharmaceutical equipment manufacturer. Hywell Machinery main products include High Shear Granulator, Fluid Bed Dryer, Fluid Bed Granulator, Vacuum Conveying, Bin Blender, 3D Mixer, Vacuum Dryer and so on. Hywell Machinery also has special kinds of dust-free solid dosage forms granulation lines and Powder mixing lines.
Hywell Machinery custom design your project according to your process and layout requirements. As process equipment, we resolved a lot of process problems for clients during 20 years.
Hywell Machinery realized the application is key important, that is why we focus on integrating process and machinery, resolve your process problems. Expertise from lab to production processes defined by your product. Hywell Machinery also have the laboratory machinery that include the lab granulator, lab powder mixer and lab drying machine.
Hywell Machinery can customize and design best equipment which satisfied with your process. Because only those who understand the process and know details can develop products that can do more than just the sum of individual components. Hywell Machinery support you in pharmaceutical, health product, food, fine chemical and feed processing through our international innovative process solutions.
Hywell customize all documentation related to the equipment, making easier the training, operation and maintenance of the equipment trough the life term even in the more exigent industries as the pharmaceutical market, we provide a complete set GMP documents including Qualifications(DQ,IQ, OQ,) , FAT, SAT, USER manual documentation. We perform the qualification executions as customer requests.
Hywell Machinery aiming to be the top-level pharmaceutical equipment manufacturer and supplier.Passionate about our business, we are continually pushing the limits of our know-how to provide high-quality, innovative, and mixing, granulating, drying solutions for a host of international brands.
Welcome visit our factory at any time!
Quality control
In order to ensure quality of product, we focus on user 's requirements and control improvement and enhancement quality of products .The quality assurance mainly focus on the processes of ensuring production readiness inspection, control of raw materials and components, process control, critical parts, important parts of quality control, assembly quality control, process control testing, measurement equipment control. Pay close attention to the implementation of the quality assurance work, strictly to three inspection system of self-checking, mutual inspection, special inspection. The key point of Quality assurance is focuses on critical parts, important parts of quality control, the quality standards required by ISO9000 quality control procurement documents in order to clarify its status and acceptance of quality standards for company's re-inspections ; For critical parts and important that the key processes of identification and corresponding technical documentation, control by "the implementation of key quality control process", and complete, accurate and complete original records. Difficulties in quality assurance is a special process control, quality assurance is mainly painting, has developed a special process (painting) process documents, take the appropriate technical measures, to quality assurance.
In the production process, we pay close attention to quality control of each process. Every component, every process was strictly controlled. Enhanced the quality inspection process, the establishment of the necessary quality control point, the process by a full-time staff and quality inspector for inspection and supervision. Improved testing procedures and operating instruction.